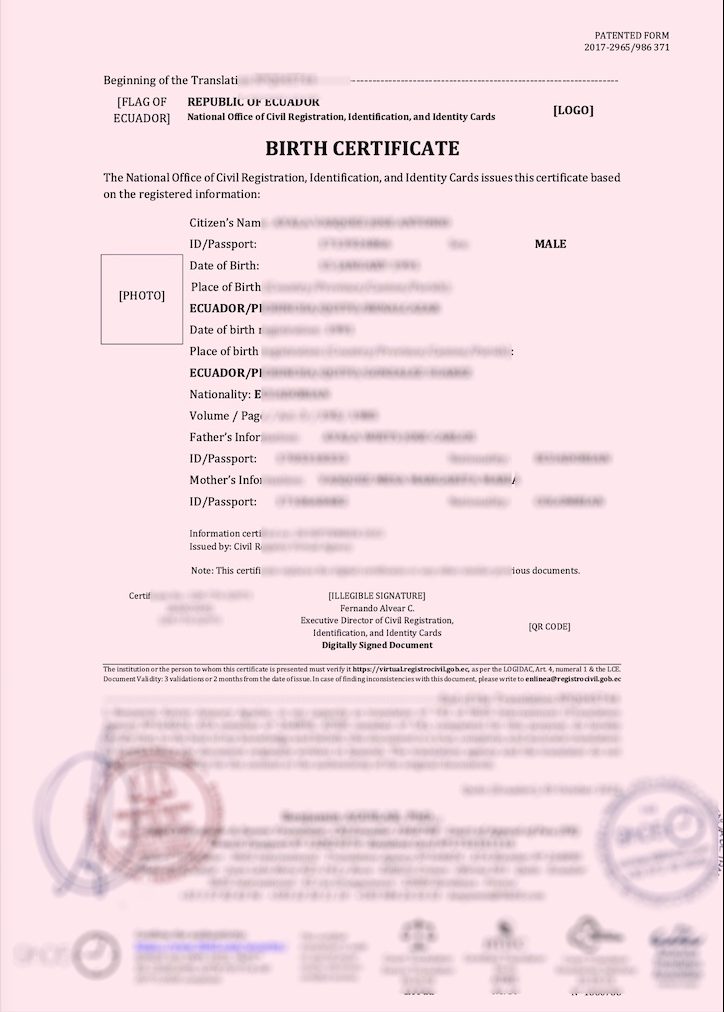 Translations printed on special paper
All our translations are printed on special paper. For increased security, the type of paper used can change at any time and is registered in our database.
The recipient of the translation can request information about the type of paper that we use to issue a specific translation.
Translation Number trackable online
Whether they be general, technical or certified, all our translations receive a unique translation series number, without exception.
This number includes 6 or 9 digits, starting with a letter that indicates the local office that issued the translation.
This series number can be tracked online, and some information corresponding to the translation can thus be verified.
Ink and embossed certification stamps
The official stamp of 9h05 International includes the following key information: primary phone No. (+33 557 82 43 96) and email contact[at]9h05.com).
It also includes the number of the translator who did the translation (three digits: XXX).
The official 9h05 International embossed stamp has the same design as the wet stamp.
Secure stapling
To guarantee the integrity of our certified translations, we use different techniques to securely bind them. These techniques include tamper resistant staple free binding, binding via embossed stamp or binding via wet stamp.
Authorized signature of the translator endorsing responsibility
Every certified translation includes the authorized signature of the translator who did the translation. This signature can be verified in the documentation that is included with your translation or by sending an email to frauds[at]9h05.com.
Translators degrees, certifications and accreditations
All of our translations are drafted and thoroughly reviewed by our team of highly qualified translators. They hold bachelor's degrees, master's degrees and doctorates in translation (along with translation studies and linguistics) in addition to international professional translator certifications.
Link to the online verification platform
Check out the link to the 9h05 International security platform, 9h05 ITM (Integral Translation Manager), where you can verify the authenticity of a translation.
QR security code
This is a QR code with a link to the page where the authenticity of translations issued by 9h05 International can be confirmed.
These security measures are combined in a patented format (2016-2965/986 371). The total or partial reproduction of this format is strictly prohibited.
ATA – American Translators Association
To confirm our corporate membership (No. 264890), the American Translators Association's logo appears on our translations.
A patented savoir-faire
Our savoir-faire is patented and protected by domestic and international laws.
Our production and management process is also patented and protected.
Since our founding in 2009, thanks to our knowledge and experience in translations, project management, document management, terminology management and procedure management, we have developed unique methods, processes, forms, formats and brands that distinguish us from the competition thanks to our high quality and ability to innovate and improve.
All copies, plagiarism and imitations constitute a violation of the intellectual property rights of 9h05 del Ecuador, 9h05 International and 9h05 Group which will be prosecuted to the fullest extent of the law by the presiding authorities.
If you become aware of any violation of these rights, report it to frauds@9h05.com.
Contact us in Bordeaux, France
Address
9h05 International
45 rue Grangeneuve
33000 Bordeaux (France)
Phone
05 57 82 43 96
WhatsApp

05 57 82 43 96
Email
Schedule
Monday to Friday, 9h30-17h00 nonstop
Contact Us in Quito, Ecuador
9h05 del Ecuador
Juan León Mera N21-241 y Roca
Edificio Cronos, Oficina 501, 170143 Quito (Ecuador)
9h05 del Ecuador
Juan León Mera N22-241 y Roca
Edificio Cronos · Piso 5 · Oficina 501
170143 Quito (Ecuador)
02 250 11 10
09 84 26 56 53
9h05 International
45 rue Grangeneuve
33000 Bordeaux (France)
05 57 82 43 96
07 69 16 56 65
9h05 Canada
55 Triller Ave #904,
Toronto, ON M6R 2H6, Canada
Miami – United States
9h05 USA
7824 NW 71ST
Miami, FL 33166 (USA)
Zaragoza – Spain
9h05 España
Calle Alta, 44
50391 Villafeliche-Zaragoza (España)
9h05 Australia
23/40 Maria Street
Petersham · NSW 2049 (Australia)