9h05 Ecuador
Your Translation Company in Quito, Ecuador:
Sworn & Certified Translations, Specialized Translations & General Purpose Translation Services
English, Spanish, French, Italian and much more languages…
SWORN TRANSLATION SERVICES in quito, ecuador
With thousands of documents translated each year in English, French, Spanish, Italian and much more languages, we aim at providing high-end translation services to customers around the globe and specifically in Quito, Ecuador.
Our certified translations are designed to fit your needs, whether you need them in Ecuador or abroad.
Our Sworn Translation Services cover official and legal documents for every formality and proceeding before public and private authorities, including court causes.
With almost 300 reviews on Google and 4,9 out of 5, we take care of our customers and endeavor to deliver the best service that each of our clients deserve.
internationally accredited court translators
We hold accreditations in Ecuador, United States & Europe, meaning that our translations are recognized worldwide.
We are Court & Forensic Translators in Ecuador (Consejo de la Judicatura / Judiciary Council + ATIEC-Certified Translators), United States (ATA Corporate Member), Canada (ATIO-Certified Translators) & France (Court of Appeal of Pau).
Thanks to our different accreditations both national and international, we offer sworn, certified, and court translation services for individuals and companies both in Ecuador and all over the world: United States, Canada, Latin America, Europe, and much more.
CONTACT US
9h05 del Ecuador
Juan León Mera N21-241 y Roca
Edificio Cronos · Oficina 501
170143 Quito (Ecuador)
+593 (0)2 250 11 10
+593 (0)2 515 33 33
+593 (0)9 84 26 56 53
Contact Us Today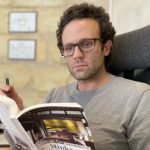 A double Master's Degree holder (MA in English Editorial Translation & MA in Spanish Translation & Linguistics), Benjamin Aguilar-Laguierce is also a Doctoral Candidate in Translation Studies. A Court Translator in Ecuador (Judiciary Council) and France (Court of Appeal of Pau), he is an ATIEC-Certified Translator delivering high-end translations with the shared knowledge of 9h05 Group's expertise and his love for rigorous and meticulous work.
Benjamin Aguilar-Laguierce, PhD(c), CEO of 9h05 del Ecuador